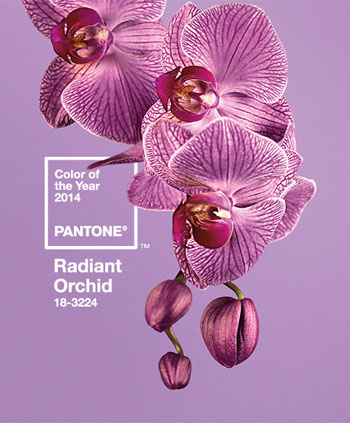 'Radiant Orchid' is one of the most important colors for 2014. Radiant Orchid for us layman is also known as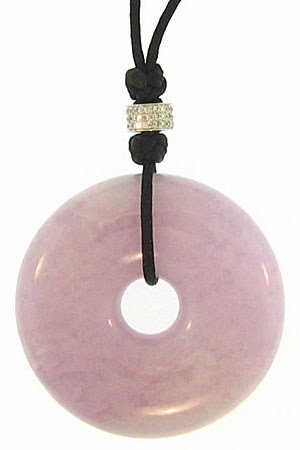 purple or lavender. Lavender is one of the most feminine and delicate colors.The color lavender immediately evokes a sense of tranquility and peace.
It is the second most popular

color of jade

. Everyone knows green as the most popular color of jade, but lavender is very desirable and is coveted by the Chinese. Lavender jade, as are all

colors of jade

, can be found in quite an array of shades and levels of translucency. Even a pale color lavender stone with some translucency can be beautiful and valuable.
Shown to the right is a beautiful and thick lavender jade 'pi' disc on a black silk cord adjustable necklace with white gold and diamond accents (style #319035). The lavender color is even and consistent. Even though this disc is quite thick it still displays some translucency. This is one of the most popular and ancient designs with great symbolism to the Chinese. Click here to read more.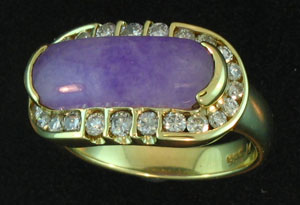 The ring shown to the left has a more vivid lavender color and in this case could even be called purple. The color may not be quite as consistent and has more of a 'sugary' look, but it is still quite intense and beautiful. The stone in this ring is called a 'saddle' stone as it sits across the finger (style #320079). The lovely estate ring is set in 14K yellow gold with diamonds.
These exquisite drop earrings shown to the right are comprised of a pair of beautifully carved lavender jade stones with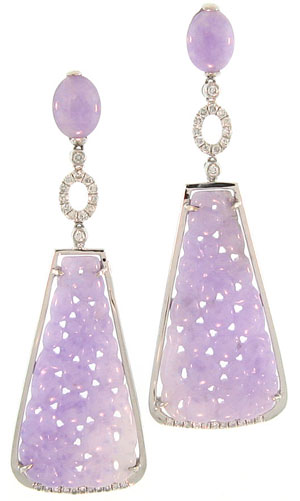 a floral motif set in an 18K white gold and diamond mounting set with matching lavender jade oval stone tops (style #319165).
Lavender is a color that can be considered cool or warm depending on the complimentary color you choose. Black is one of best colors that compliment lavender and makes it pop.The perfect compliment to lavender is green, which the Chinese discovered hundreds of years ago. Jade stones that display both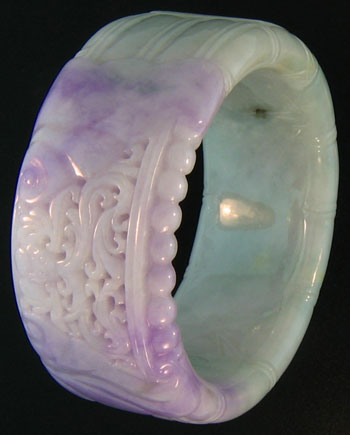 colors in one piece are coveted for this special combination.
The bangle shown to the right is a two section, hinge and clasp bangle that displays both a lovely green and lavender color (style #320420).
This bangle shown to the left is a solid, continuous one piece carved bangle that also displays green and lavender, but mostly lavender (style #313347). This incredible bangle is an impressive piece of jewelry. The lavender color on this bangle bracelet ranges from intense to subtle. This bracelet makes quite a statement and is the perfect piece for this season. Worn with a simple black dress, this bracelet is bold and elegant.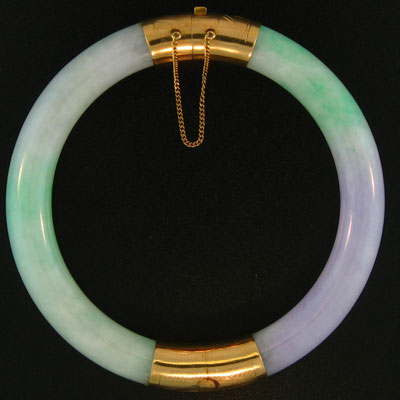 Mason-Kay Jade has an extensive collection of lavender jade loose stones, loose carvings and finished jewelry including bangles and beads. To learn more about jade and lavender jade we invite you to visit our main website.
To view our entire online jade collection please visit our

online jade showroom.

If you are a consumer you can visit your local jewelry store and inquire about login information. If you are a retailer please

email us

and we can assist you in registering for your own login information. We look forward to hearing from you.
Thank you!