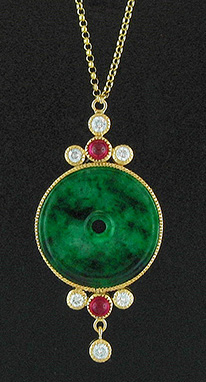 There are many necklace trends that have emerged in the last few years, but only a few that have persevered. They do so because they are styles that one would actually wear. Our designers are keen on the idea that our jewelry is truly meant to be worn and adored. So, not only should the jewelry be comfortable to wear, but easily worn with today's fashion.

Longer necklaces, like the 'Y' necklace, seem to be one of those styles that the fashion gurus revive every few years, but for most of us we continue to love and wear our long necklaces whether we are told they are trendy or not. The long necklace is perfect for layering, wearing with a low cut neckline, or on top of a higher neckline year round. Style #340688 (shown below) is a simple, yet beautiful, green jadeite jade 'Y' necklace. Style #341241 is another 'Y' necklace but quite unique with the centerpiece a very translucent ice jadeite jade tiger on an 18k white gold chain with green jadiete jade accents.

Why do jewelry and accessories with tassels endure? They feel good, to wear and to touch. The same can be said for jade. Jade is a special gem. It feels luxurious on the skin, comforting to the touch and is enhanced by both. The designs below are a mere few from our jadeite jade designer pendant and necklace collection. All the styles below are from the Mason-Kay Designs by Kristina Collection. They feature an array of design choices. Our jade tassel designs have been very popular. Many have sold, but below is one of our newer pieces - style #341890; it features icy green jadeite jade beads that are so translucent you can see the 14K yellow chain running through the beads down to the flowing tassel.

One of our most popular collections is the 'Jade Bubble' design assortment. This fashion forward, asymmetrical collection is fun, trendy and beautiful. Shown below are six different one-of-a-kind jade 'bubble' necklaces. Please look for some of our fabulous 'Jade Bubble' ring styles as well.

The pendants that are shown in this post truly traverse the gamut of pendant designs. The first piece in the first row - #341616 - is a very unique pendant with modern, geometric, green jadeite jades and a beautiful cabochon ruby center, satin finished 18K yellow gold and pave diamond accents. It is a stark contrast to the more traditional, and always wildly popular, carved jade pendant; three examples of these pendant styles are shown in the bottom row.

As always, please let us know if you are looking for something specific, or please browse through our Online Jade Showroom, also known as our virtual jade catalog, to view our current jade inventory.
Style #341616
Green jadeite jade geometric pendant
with a cabochon ruby center & pave
diamond accents set in 18K yellow gold

Style #341630
Rich, deep green jadeite jade
disc set in an 18K yellow gold
fancy necklace design with
cabochon rubies & diamond accents

Style #337954
18K yellow gold circle necklace
with a green jadeite jade marquis &
diamond & sapphire accents

Style #341890
Icy green jadeite jade tassel
necklace set in 14K yellow gold
with diamond roundels

Style #341869
Green jadeite jade cylinder
necklace with green jade beads,
14K yellow gold &
diamond accents

Style #340688
Green jadeite jade 'Y' necklace
set in 14K yellow gold with
green jadeite jade 'coin' accent

Style #334670
Lavender jadeite jade marquis
necklace with 18K white gold satin
finished frame &
pear shaped diamond top

Style #341241
Ice jadeite jade carved tiger
necklace set in 18K white
gold with green jadeite
jade accents


Style #341258
Green jadeite jade heart necklace
set in 18K yellow gold satin finished
bezel with diamond top


Style #341845
Green jade oval cabochon pendant
set in 18K yellow gold with
cabochon pear shaped sapphire bail


Style #341821
Green jadeite jade heart pendant
set in 18K white gold with
diamond bail


Style #341838
Green jadeite jade trapezoid
pendant set in 18K yellow gold with
a baguette diamond
& satin finished bail


Style #340299
Vivid, thick, lavender jadeite
jade circle necklace with lavender
jade barrel bead, green jadeite
jade & diamond accents

Style #340305
Icy lavender jadeite jade bead
slide necklace set with 14K white
gold & diamond roundels

Style #340268
Green jadeite jade rectangular
tablet necklace set in 18K white gold
with green jade & diamond accents

Style #340176
Yellow jadeite jade 'Bubble'
design necklace set in 18K yellow
gold with diamond accents

Style #340190
Fine red jadeite jade 'Bubble'
design necklace set in 18K yellow
gold with diamond accents
Style #340220
Ice jadeite jade & yellow jadeite jade
'Bubble' design necklace set in 14K
white gold
Style #340350
Ice jadeite jade marquis 'Bubble'
design necklace set in 18K white gold
with marquis diamonds & sapphire accents
Style #340213
Apple green jadeite jade 'Bubble'
design necklace set
in 18K yellow gold
Style #340183
Round lavender jadeite jade 'Bubble'
design necklace set in 18K white
gold with diamond accents
Style #341128
Carved green jadeite jade pendant
set with18K yellow gold satin finished
bail with pear shaped diamond
Style #341081
Carved lavender & red
jadeite jade 'grapes' pendant
with 18K yellow gold bail
Style #341135
Carved green jadeite jade
butterfly pendant with green jadeite
jade & 18K yellow gold bail