The word on the street is that pins are back. The word at Mason-Kay is that they never left.

Pins are a fundamental component of a well-rounded jewelry collection. Maybe it is not that pins have made a comeback, but that some have simply forgotten these beauties at the back of the drawer. We always have customers that are looking for a delicate pin or significant brooch for a specific occasion. Winter is approaching and nothing adds a little drama to a bland wool coat than a vibrant brooch, as well as an elegant pin on your favorite sweater.

Below are just a few styles from our jadeite jade pin and brooch collection. To view a more comprehensive selection of our pins and brooches, including new designs as well as estate pieces, please visit our online jade showroom.

Style #341654
This lovely double icy, green jadeite butterfly pin is set in 18K white gold, satin finish branches,
round cabochon ruby & marquis diamond accents.
Mason-Kay Design by Kristina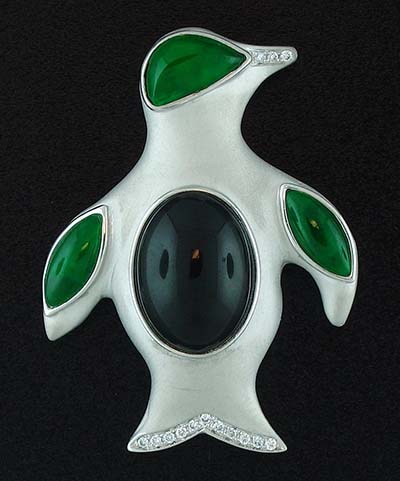 Style #341289
Green jadeite & black jade penguin pin
set in 18K white gold with micro-set diamond beak & feet
Mason-Kay Design by Kristina

Vintage and estate jade jewelry is more popular than ever. Over the last several years, we have seen an increase in requests and sales of estate jade pieces. Below are two examples of estate pins from our considerable estate jade jewelry collection.

Style #340541
'Moss in Snow" jadeite estate jade brooch Carved 'lock' motif set in 14K yellow gold
Style #325746
Carved estate green jadeite pin set in14K yellow gold with pearls & enamel accents