As many of you know, jade is found in an incredible array of colors. Mason-Kay's Colors of Jade chart is an incredible reference on all the jade colors. Green jade and lavender jade are two of the most well-known colors, however black, red and yellow are wonderful options for fine fashion jewelry.
Mason-Kay's designers have made a great effort to create new jade jewelry collections that reflect current designs styles; designs that enhance every piece of jade, but are also fashion forward and beautiful. Black jade is a great option for fine jewelry. Jade is extremely durable which makes it the perfect gemstone for fine fashion jewelry. Black jade is must more durable than onyx which is quite fragile. Red and yellow jade are actually more popular than most people think. Jade is an amazing gemstone to wear because of the durability and amazing range of colors.
Below are just a few of our new black jade, red jade and yellow jade designs. Our new jade jewelry collections do include all the color of jade as well and wonderful range in styles. Click here to see a sample of our designer green jade line. Click here for new lavender jade designs. Click here for new ice jade & water jade designs.
We will be attending the upcoming JCK Show

in Las Vegas and would love for you to see our entire new designer jade collections.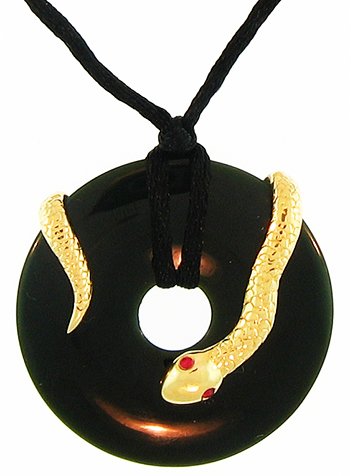 Style #331723
Black Jade Disc/Pi Necklace On Adjustable Black Silk Cord
With 14K Yellow Gold Snake Meandering Around Disc
With Ruby Eyes
Design by Kristina for Mason-Kay





Style #332270
Red Jade Oval Cabochon Ring Set In
18K Yellow Gold With Diamond Side Stones
Design by Kristina for Mason-Kay

Style #332645
Large Red Jade Oval Cabochon
Earrings Set In 14K Yellow Gold
Design by Kristina for Mason-Kay






Style #332744
Highly Translucent Yellow Jade Oval
Cabochon Ring With Diamond Side Stones
Design by Kristina for Mason-Kay

Style #332768
Yellow Jade Oval Cabochon Gypsy Ring With Green Jade Side Stones
Design by Kristina for Mason-Kay







Style #332713
Red Jade Oval Cabochon Ring Set
In Heavy 18K Yellow Gold
With Tubular Shank
Design by Kristina for Mason-Kay


Style #328365
Yellow Jade Tear Drop Necklace
With Yellow Jade & Green Jade
Accents Set In 14K Yellow Gold
Design by Kristina for Mason-Kay






Style #330276
Red Jade Heart Necklace Set In 14K Yellow Gold With Diamond Top
& 18" Chain
Design by Kristina for Mason-Kay

Style #328334
Fine Red Jade 'Rounded Square'
Pendant Set In 14K White Gold
With Diamond Top
Design by Kristina for Mason-Kay