As I always say, most people think of the

color green

when they think of

jade

. Lavender jade is probably the next most well-known of the

colors of jade

. However, jade is found in an incredible array of colors; green, lavender, red, yellow, white, black, grey and ice. Ice jade is exactly as it sounds. It looks icy as it is devoid of color. Different than moonstone, ice jade is more glassy, pure and much more durable. Ice jade in its finest form has an incredible glow to the stone as ice jade tends to have distinct translucency.

Now, water jade is very similar to ice jade, but it exhibits more of a watery color with light shades of green. Water jade can also demonstrate levels of translucency. As with all finer jadeite, the tighter the crystalline structure the higher level of translucency and therefore the finer quality.

We have some new, beautiful ice jade and water jade designs. Below are just a few pieces from our newest ice jade water jade jewelry collections of the year. Our designers are strongly committed to trying to create beautiful jade jewelry designs that enhance the beauty of every jade piece, as well as make jewelry that is comfortable and pleasing to wear. In the last several years, ice jade has become increasingly popular and more well known. If you are attending the upcoming JCK Show in Las Vegas we hope you will come by our booth (S10412) to see all our new, designer jade jewelry collections. Click appropriately to see a few sneak peaks of our newest

green jade collections

and

lavender jade collections

.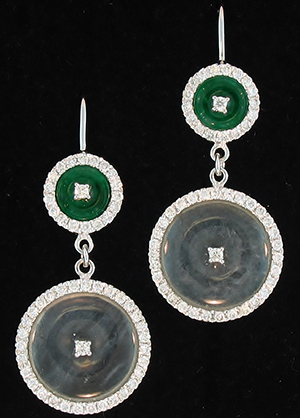 Style #332577
Fine Ice Jade Discs/Pi's & Green Jade Discs/Pi's Drop Earrings Set In 18K White Gold With Diamond Centers & Micro-Set Diamond Bezels
Design by Kristina for Mason-Kay






Style #327344
Fine Ice Jade Oval Cabochon Ring
Set In 18K White Gold With Diamonds
Design by Kristina for Mason-Kay


Style #332553
Carved Ice Jade Oval Drop
Earrings With Diamond Tops
Design by Kristina for Mason-Kay







Style #327375
Water Jade 'Cone' Shaped Drop Earrings
Set In 14K White Gold With Water Jade
& Green Jade Accents
Design by Kristina for Mason-Kay


Style #330290
Ice Jade Oval Cabochon
Pendant Set In 14K White Gold
With Faceted Green Jade Accents
Design by Kristina for Mason-Kay







Style #332386
Unique Flat Ice Jade 'Flower' Necklace
Set in 14K White Gold With Tourmaline &
Green Jade Tear Drop Accents
Design by Kristina for Mason-Kay


Style #332379
Water Jade Cylinder Drop Earrings
Set In 14K White Gold With
Ruby & Sapphire Accents
Design by Kristina for Mason-Kay