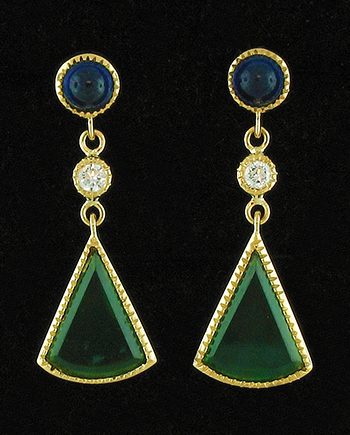 Jewelry trends come and go, but we design our Mason-Kay jade jewelry to last and be enjoyed for a lifetime. We consider many of our designs to be 'heirloom' pieces in the hope that these wondrous gems will be admired for generations. Every piece of our jade jewelry is a unique investment. For some, the purchase is purely for investment in a fine piece that will increase in value. For most, the purchase is an investment in something they love and will wear while it quietly increases in value and transitions into an heirloom piece.

Earrings are one of those design categories that seem to be easily swayed by dramatic trends. We've seen the massively oversized single earring and the uncomfortably long and heavy earrings. Even though our designers are influenced by trends, we want our designs to be unique and stand the test of time. That is not to say we don't love an oversized earring design, or a more modern style with a contemporary twist.

Shown below are a few new jade earrings from our Mason-Kay Designs by Kristina Collection. They span a diverse range of style. Green jade stud earrings are a staple for many of our customers. Shown below are two classic styles that will always be considered somewhat traditional, but will always be in style. The first is style #341357, a pair of apple green jade 'pi' disc earrings set in 18K yellow gold with a bead center and milgrain bezel. The other, style #341173, is a lovely pair of rich green jade oval cabochons set in 18K yellow gold satin finish bezels.

When it comes to drop earrings, we have a crazy wonderful selection to choose from - there is certainly something for everyone. We have designs that are classic Mason-Kay. Style #339316 for example, rich green jadeite jade double cabochon earrings set with a diamond center. We make this popular design in several different colors of jade. It's also shown here in lavender (Style #338050) and in two ice jade versions (Style #339194 & #339187).

Carved jade drop earrings are also one of our more popular design styles. We show a few below that portray the variety of color and price ranges we offer; from a simple pair of carved green jade drops (style #339446), to a fun tri-color pair of yellow, ice and black jade circle drop earrings (style #340169), to a finer and unusual carved pair of green jade rectangular drops (style #340985).

So, as we always say, if you don't see what you're looking for here or on our Online Jade Showroom, please contact us for more possible jade jewelry options.
Style #341913
Ice jadeite jade marquis chandelier
style drop earrings set in 18K white
gold with green jade bead accents

Style #340985
Beautifully carved green jadeite jade
drop earrings set in 18K white gold
with diamond & green jade accents

Style #340978
Icy green jadeite jade tear drop
earrings set in 18K white gold with
diamond & green jade tops

Style #341357
Green jadeite jade disc stud
earrings set in 18K yellow gold

Style #339446
Carved triangular green jadeite jade drop
earrings set with 18K yellow gold &
yellow jade & green jade accents

Style #341173
Oval green jadeite jade cabochon
stud earrings set in 18K yellow
gold satin finish bezels

Style #341784
Carved red jadeite jade dragon motif
drop earrings set with 18K yellow
gold, green jade & red jade accents

Style #340152
Yellow jadeite jade carved 'coin' design
drop earrings set in 18K yellow gold
with yellow jade cabochon tops

Style #340169
Carved yellow & ice jadeite jade
& black jade circle floral motif
drop earrings set with 14K yellow gold

Style #341111
Green jadeite jade drop earrings
set with 14K yellow gold 'stardust'
beads & green jade bead accents

Style #339316
Green jadeite jade double cabochon
drop earrings set in 18K yellow gold
with diamond accents

Style #341166
Green jadeite jade circle design
drop earrings set with 18K yellow gold
& green jade disc tops

Style #339194
Double ice jadeite jade cabochon drop
earrings set in 14K white gold with
green jade bead accents

Style #338050
Double lavender jadeite jade cabochon
drop earrings set in 18K white gold
with round diamond accents


Style #339187
Double ice jadeite jade cabochon drop
earrings set in 14K white gold with
tourmaline roundel accents


Style #339231
Drop earrings with flat black jade
ovals & carved ice jadeite jade open ovals
set in 18K white gold with green jade accents

Style #339156
Ice jadeite jade 'pi' disc drop
earrings set in 18K white gold with diamond
bezels & green jade 'pi' disc tops

Style #338197
Geometric shaped ice jadeite jade
drop earrings set in 18K white gold
with green jade bead accents

Style #337411
Freeform lavender jadeite jade drop
earrings with lavender &
green jade bead accents

Style #338241
Red jadeite jade 'double happiness'
carved drop earrings set in 14K yellow
gold with red & green jade bead accents

Style #337046
Open carved white jadeite jade bead
drop earrings hanging on 14K yellow
gold chain with red & green jade beads