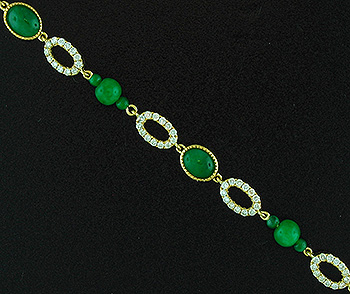 When it comes to wearing pieces of jewelry together there are two schools of thought. Some who love to wear perfectly matching jewelry, and quite insist upon it, and those that prefer to wear pieces they deem work well together. We understand. We design jewelry with this in mind.

Sometimes the universe simply makes it clear to utilize the perfect number of pieces on hand to create the perfect ensemble. The first set shown below is one of these perfect scenarios. This beautiful set featuring the unusually cut triangular green jadeite jade designed drop earrings and bracelet seemed to be almost precisely predestined. These green jade triangles match each other beautifully and are perfectly complimented by the cabochon sapphires and round diamonds. There is also a wonderful contrast between the more modern triangular cut of the jade and the more classic design feature of the milgrain edging. We like to refer to this as a 'nouveau traditional' jade design.

If yo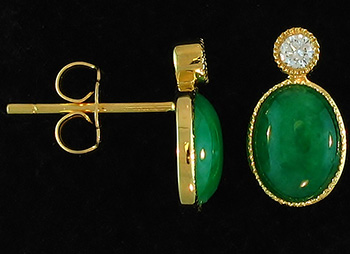 u prefer the pieces that work well together, you could consider either the earrings or bracelet with a similarly designed ring (see here – in our Fall 2016 Ring Designs post). This way you achieve pieces that can be worn together beautifully without being too 'matchy' and wear these lovely pieces separately as well. There are several examples below of jade sets or ensembles that match perfectly, or simply work perfectly to complement each other.

All the pieces shown below are from the Mason-Kay Designs by Kristina Collection.

As you may know, we no longer produce our illustrious multi-page catalogs. We instead offer our Online Jade Showroom - a 'virtual jade catalog'. This allows us to keep our mostly a one-of-a-kind collection current while offering it to all our customers.

Also, please let us know if you have not received our newest Designer Jade Brochure. We are certainly happy to send you one, or you may view it instantly on this site; click here.

We wish you all a wonderful fall season and look forward to assisting you with all your jade jewelry needs.
Style #341593
Triangular green jadeite jade drop
earrings set in 18K yellow gold with
diamonds & cabochon sapphire tops
Style #341647
Triangular green jadeite jade bracelet
set in 18K yellow gold with diamonds
& cabochon sapphire spacers

Style #339040
Double green jadeite jade drop
earrings set in 18K yellow gold
with green jade accents
Style #338012
Oval green jadeite jade link bracelet set
in 18K yellow gold with satin finish
gold spacers & MK signature clasp
Style #341630
Green jadeite jade disc necklace set
in 18K yellow gold with round diamonds
& cabochon ruby accents
Style #341739
Oval green jadeite jade ring set in
18K yellow gold with carre cut diamonds
& cabochon ruby side stones
Style #339330
Oval cabochon green jadeite jade
stud earrings set in 18K yellow gold
with diamond accents

Style #341807


Green jadeite jade oval cabochon bracelet
set in 18K yellow gold with oval diamond &
green jade bead/roundel spacers

Style #341166
Green jadeite jade circle drop
earrings set in 18K yellow gold
with green jade disc tops

Style #338982
Green jadeite jade circle bracelet
set with 18K yellow gold ring connectors
& MK signature clasp

Style #340152
Yellow jadeite jade carved 'coin' drop
earrings set in 18K yellow gold
with yellow jade cabochon tops

Style #339422
Yellow jadeite jade carved 'coin' bracelet
set in 14K yellow gold with gold 'stardust' bead
& green jade roundel spacers

Style #341777
Lavender jadeite jade tear drop
earrings set in satin finish 14K white
gold with lavender jade cabochon tops

Style #341791
Lavender jadeite jade tear drop
pendant set in 14K satin finish white
gold with lavender jade cabochon bail